DroomData


Soundcloud ︎
Instagram ︎

Droomdata is my solo work, under which I produce, perform and DJ.

I use fieldrecordings, melodies and poetry to create electronic music for live performances and digital releases.
Droomdata tracks are inspired and created by everyday noise and unexpected melodies, anti-state movement and existential thought.

Under DroomData I also perform DJ sets, choosing from a range of electronic synth ladend queer pop and underground sounds coming from gabber, terror and tech.


Collaborations and residency projects
Artist in Residence at de Lievelinge

A response to surrounding, with Butoh dancers Margarita and Yi.

A collaboration between Butoh dancers Margarita (Taiwan), Yi (China) and Droomdata during artist in Residency at de Lievelinge in June 2019.
Butoh is a form of dance/theater/expression that was created in Japan after world war two. It is an art that is associated with pain, taboes and expression, however multi-interpreted across the world and through the ages. Dancer Margarita and Yi both studied the art of Butoh performance and have been traveling and performing their craft. Butoh is a performance that is felt by the viewer, where expression through the body takes hold.

We questioned how place and surrounding holds memory for us, and therefore, parts of who we are. We questioned how we relate, take responsibility for, and memorize places that once were part of our daily routine, and may now have transformed into distant places. How do we connect to place, and how does place connect to us?

The musical and DroomData elements of the live performance were build up by recorded and edited found sounds from in and around the Lievelinge. Thereafter layered with live vocals and synthesizer, attempting to create a melancholic whole to assist the dramatic, sensitive and powerful movements of the Butoh dancers.



Ctrl+Sustain+Dlt


Through continues collaboration within sound and movement Hayley and Droomdata interpret concepts of tension and release, internalised control of the external world, the state and self.

With recorded sounds from ruins and abandoned places, melodies and contemporary dance interpretations we question fragility of space, tension and release.
The droomdata sonic elements, focussed on comfort and discomfort, experimental noise and warped sound versus a homecoming melody.
The sculptural element created tension in movement, sometimes in collaboration, sometimes blockading the captivating movements of Hayley that tell stories.

First performence at Totem theater, Mpartnwe October 1st.








Plek

Headphone concert during artist in Residency at de Lievelinge.
Found sounds from around the Lievelinge, guitar, synthesizer and poetry. Performed as a 25 minute live headphone concert.

'Stromen uitgesneden door de mond van regen
Voel ik me bekeken door de ogen van de berkenbomen
Door de harde wind applaudisseren de bladeren op hun tak
Voor een voor mij onbekende zaak
Groots en belangrijk zal het wezen
Ontvang ik het even
En word ik herinnerd aan de andere waarheid
Door het gepiep van het molletje dat dient als avondmaal voor de ooievaar
Reorganiseer ik mijn gedachten, zorgt een plek voor een andere blik
Als het herinrichten van mijn kamer, verschuif ik stoel en tafel
In gedachten.'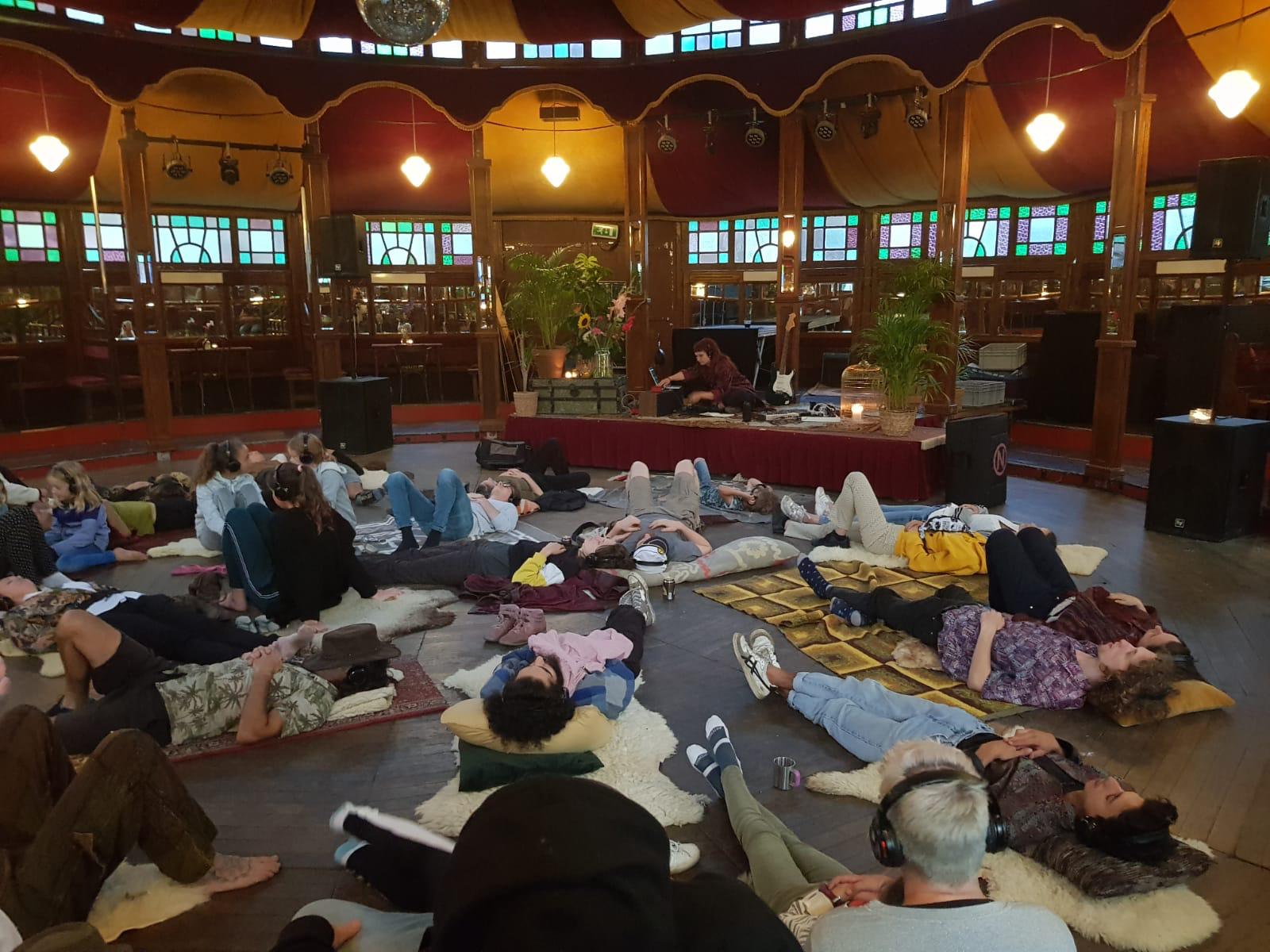 Droomdata on New Weird Australia. Track 'Stoeptegels'



︎︎
'' New Weird Australia, Space Between Space is a work of four parts: quiet, loud, broken and fixed. Music of inquiry, of anger, of loss, of promise – and the space between all such things.''


The track is called stoeptegels, with words that sum up absurdity, reality and immateriality. All collected and found sounds, composed into a dream scape.


Space between space is available on bandcamp. All proceeds from this release will be donated to the Barpirdhila appeal, which supports Aboriginal & Torres Strait Islander artists & community affected by COVID-19.
Metamorphosis 🦋



A collaborative piece between butoh performing duo Margarita (Taiwan), Yi (China) and musical duo Swallet; Sy (Tasmania) Saar (Netherlands).

For this collaboration all the artists camped out in the desert, and collaborated on a performance that communicated back and forth on each others art. From movement to sound, sound to movement.



Filmed and edited by Stuart Liddell of Industrial Cuts & Crossfades, industrialcuts.com


Metamorphosis Part II from Industrial Cuts & Crossfades on Vimeo.

Listen to the Metamorphosis track on spotify: ︎︎